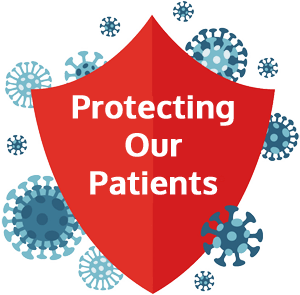 Our Patients' Safety…
…has always been our number one priority. From our very first patient appointment in 1999, Lake Forest Pediatric Dentistry has followed the strictest CDC and OSHA regulations. In our two daily team meetings we often stress these guidelines. We address the importance of pristine, healthy operatories, reception, and the office as a whole. Our protocols for infection control and sterilization are extreme, going above and beyond what is necessary. And beginning May 2020, with the COVID-19 health crisis, we have implemented further advanced measures.
Our team's scrubs and uniforms have always been laundered in-office, and our staff members do not leave our building in their uniforms. As of May 2020, our staff will change into scrubs, cleaned on sterilization cycle, at least twice daily and will not leave our office in scrubs.

We will begin wearing face shields in addition to N95 and KN95 masks. Also, you may see our team members wearing surgical masks over the respirator masks for further infection control.

We utilize high-speed suction mouthguards during many procedures for patient comfort and to minimize aerosols outside of the mouth. Even during teeth cleanings we use moisture evacuation during the entire procedure. We will be adding extraoral high-speed evacuation for all procedures to eliminate or nearly eliminate even the slightest aerosols.

One of our extra measures that we implemented 20 years ago is our 4-stage HEPA air filtration that we run outside of patient hours, 125 hours a week. In May 2020, we are adding a new identical air filtration system, and both will run at all times.

Our two hand wash stations are entirely touchless- the anti-microbial hand soap dispensers and the Dyson Airblade Wash+Dry. Our protocol is to wash hands and then use hand sanitizer before and after each patient interaction. We are also adding a touchless hand sanitizer dispenser in the reception area.

With the exception of delivering treatment plans and post-appointment instructions, our practice has been entirely digital and paperless. Our new delivery of treatment plans and instructions will be via computer and device, and all instructions (pre-appointment and post-appointment) will be referenced on our website as well.

We have implemented several new protocols for our patient appointments that can be viewed on our Appointment Info page.